Sancho Panza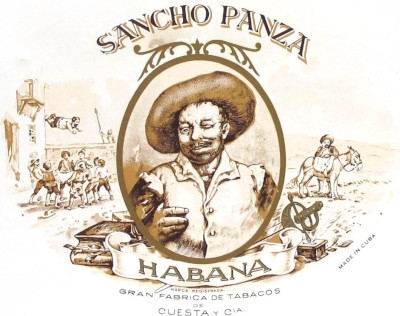 Year of foundation: 1852
Tobacco Country: Cuba
Tobacco Procedence: Vuelta Abajo
Factory: Romeo y Julieta

One of the oldest Cuban cigar brand, Sancho Panza has been manufacturing cigars since 1848 in La Havana, when it was established by Don Emilio Ohmsted. Named after Don Quixote's squire in the classic Cervantes' novel from 1605, the marca based in Havana has been hand rolling cigars with longer-filler tobacco from the Vuelta Abajo in the Pinar del Río tobacco growing region. Sancho Panza cigars are generally considered to be medium in strength and their current production cigars are the Sancho Panza Belicoso and the Sancho Panza Non-Plus.
There is also a Hondurian Sancho Panza cigar brand that was started after the Cuban revolution. However, the original brand is Cuban Sancho Panza that is mentioned here.