Fonseca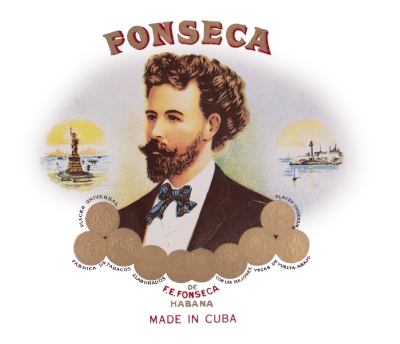 Year of foundation: 1907
Tobacco Country: Cuba Tobacco
Procedence: Vuelta Abajo
Factory: Lazaro Pena

Don Francisco E. Fonseca established his factory in Havana, Cuba in 1892, 25 years before officially registering the company bearing his name. As he divided his time between New York, USA where he was operating from and Cuba where the manufacturing was made, the brand became hugely successful thanks to its premium quality cigars and to his clever marketing. The influence of the two countries is still visible today, with both the Statue of Liberty and the Morro of Havan surrounding Francisco Fonseca picture on the brand's logo. He chose to wrap each individual cigar in some fine white Japanese paper in order to preserve the cigars in the best conditions. This packaging is still in use today and is still the Fonseca touch. Their cigars are known for being mild in strength but with rich flavors and its best selling vitolas are the Fonseca Delicias, Fonseca Cadetes and Fonseca Cosacos. There is also a Dominican Fonseca cigar brand that was started after the Cuban revolution. However, the original brand is Cuban Fonseca that is mentioned here.